Rooms
In memory of the great wisdom and merits of the Six Patriarchs, the six courtyard-based main buildings connected with the Lobby are respectively named the First Patriarch, the Second Patriarch, the Third Patriarch, the Fourth Patriarch, the Fifth Patriarch and the Sixth Patriarch. The buildings are all within an enclosure. The lobby, main buildings and annex buildings are arranged in an upside-down T-shaped manner. Around the six courtyards are landscape pools, water screens, cascading waterfalls, Longshan Lake, villas, giant rock waterfalls and Chinese landscape elements. It's a picture-perfect scroll.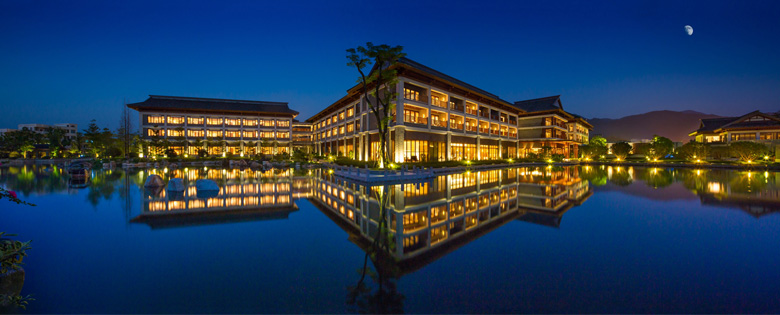 Within the main buildings are 290 Chinese style Zen-themed guestrooms and suites. Among them, 220 are deluxe guestrooms (112 twin bed rooms and 108 king size bed rooms), 23 premium guestrooms (13 twin bed rooms and 10 king size bed rooms), 31 premium suites (king size bed suites) and 16 duplex suites (king size bed suites).
The guestrooms are furnished with Ming-style furniture made of Laotian rosewood, and decorated with famous Chinese paintings, antiques and fine crafts. Finely crafted with choice materials, they exude a sense of elegance, simplicity and luxury. Shaped with simplistic lines, the desks, chairs, beds and cabinets are sturdily connected with mortise and tenon joints. The smoothly polished timber features exquisite patterns. The flowers, birds, trees, kiosks and pavilions against the rosewood are abstractly sketched or detailedly depicted to present a poetic Zen scroll.
The succinctly and massively carved rosewood furniture is a great expression of the simplistic luxury and plain elegance of the Resort.