Hotspring
Combining Eastern health preservation ideology and Western recreational culture, Zen Hotspring Spa Club aims to create high-scale Chinese Zen culture experience in the pursuit of harmony of man and nature. There are 28 feature hotspring pools, including dynamic SPA (swirl pool), Asia's longest infinity therapy pool (longevity pool), largest "sprinkler" (sun bath), natural pool-in-pool (wetland pool) and rare Chinese herbal medicine pools like Zen Herbal Garden. Furthermore, the Resort offers 3 swimming pools and a geothermal house, Tao Spa and an open-air lounge. In light of the natural rivulets, rivers and bamboo forests, wetlands, dense forests and gentle slopes are designed in the Spa Garden; Yoga, Taiji and medication are introduced in the Zen Hotspring space. Private and primitive ecological experience is provided for the appreciation of natural beauty.
ZEN HOTSPRING RESORT boasts the world's precious hotspring resources uniquely found in Guangdong Province—high-temperature sulfurous hotsprings. These hotsprings contain 20 minerals, including sulfate, calcium, magnesium and sodium, and radioactive microelements beneficial to the body like radon. Gushing from the creeks of rock stratum deep beneath the Earth's surface, the light hotspring water has a temperature of 72.8oC at maximum. The uniquely therapeutic and precious natural high-temperature hotspring water is reputed as Water of Immortals.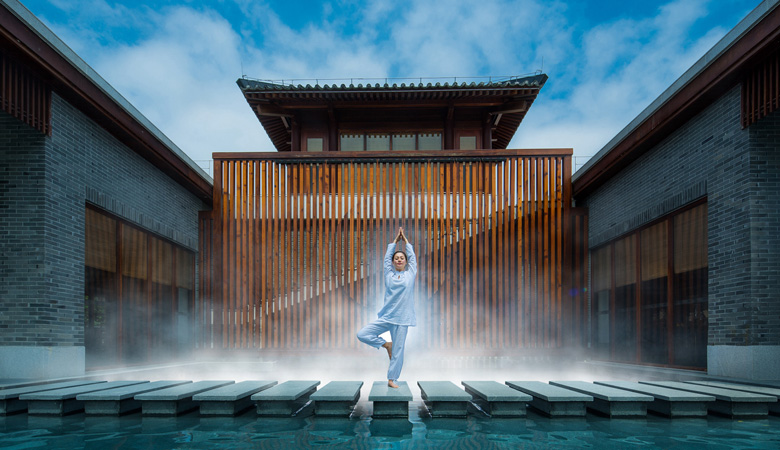 The Tao Spa offers Thai massage, Chinese manipulation, international SPA, skincare, body care, health care and health maintenance services. It's dedicated to delivering a professional and amazing Spa experience.